More densely populated than the last, this team photo contains classicists from all over Continental Europe, Russia, North America and UK. I'm in it, but I won't say where. Last weekend – when Edith was in Lublin "upset[ting] devout Poles" – I was in Ljubljana, Slovenia, at an international symposium called: Classics and Class: Teaching Greek and Latin Behind the Iron Curtain. The conference was organised by Profs. Elżbieta Olechowska and David Movrin (4 and 5 in from the left at the front, and below) and delivered with terrifying precision by a crack team of Classics students, armed only with a bell, coffee machine and fridge magnets (mainly in the back row).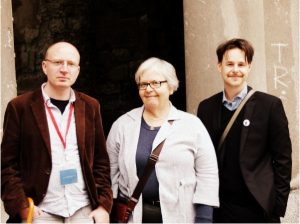 I arrived in Ljubljana with a presentation about our favourite Prussian strongman in my pocket, and I left fizzing with information about Classics in Central and Eastern Europe. I have turned some of what I learned from the other delegates into an extended blog post (Classics and Class, Ljubjana 2013) and put it up on our research page (under Current Work), where you can also find all our published work relating to Classics and Class.
Fizzing aside, I came back from Ljubljana carrying a fantastic new book, edited by György Karsai, Gábor Klaniczay, David Movrin and Elżbieta Olechowska and entitled: Classics and Communism (2013). I talk about the book in my extended blogpost, in which I also attempt to make sense of popular and politically polarised prejudices towards Classics via experiments with cultural electrolysis. Please do contribute your thoughts on the extended blog entry in the comments below this blogpost. I'm sure there will be plenty of footnotes, corrections and additions needed to keep my potted summary afloat.
Since the chewier stuff is elsewhere, I'll leave this hors d'œuvre of a post with 2 curious points of fact:
1. In Slovenia there is a brewery called 'Human Fish'. It is called this because they make their beer from water with these in it: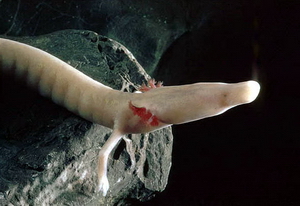 2. Prof. Jerzy Axer (below), who chaired my panel, has an elephant ringtone. This played a somewhat surreal bit part in my conference paper. I would like to thank him, the organisers (Elżbieta and David), the other delegates, and all the student helpers for making my stay in Ljubljana so memorable. I ought to thank also Lea Grbec for her splendid photographs, which I have fiendishly robbed from the Classics and Class (Ljubljana) gallery.