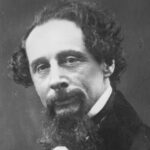 Enjoy Charles Dickens' revenge against the cruelty of classics masters at minor private schools to which aspirational lower middle-class families sent their sons. The revenge takes the form of the fantasy of Robin Redforth (aged 9), the narrator of part III of Charles Dickens' 1868 novella Holiday Romance, subsequently illustrated by Susan Beatrice Pearse. The hero of the fantasy is a pirate named Captain Boldheart, who embraced his criminal career out of loathing for the Latin master who had 'spited' him.
In the China seas, Boldheart encounters a ship flying the flag of ancient Rome, and it turns out that its captain is the Latin master. Boldheart orders his men 'that the Latin-grammar master should be taken alive', and then defeats him in 'a terrific cannonading'.  The Latin master is then punished for his perfidy and spite against little boys by being cast adrift in a small boat with a few provisions and a Latin grammar.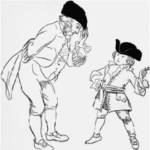 Later, the master is about to be cooked by wildly dancing 'savages' on an island. He is being coated with flour and has had his head shaved.  Boldheart rescues him but only on condition that 'he should never, under any circumstances, presume to teach any boy anything any more', and that he would spend the rest of his life voluntarily helping boys with their Latin exercises.
Dickens was conflicted about Classics. His family's poverty meant that his schooling was interrupted, he did not go to university and did not get the chance to learn Greek.  But at Wellington House Academy, on the Hampstead Road, which he attended for two years in his teens, he actually won the Latin Prize. He was shocked by the classical training on offer in such establishments, and the substitution of grammar and flogging for a liberal education. Mr Jones, the headmaster of Wellington House Academy, had meted out terrible scourgings. As a day boy and a talented linguist, Dickens had avoided such punishment, but witnessing it had traumatised him. In Holiday Romance Dickens finally achieved revenge for Mr Jones' ferocity.