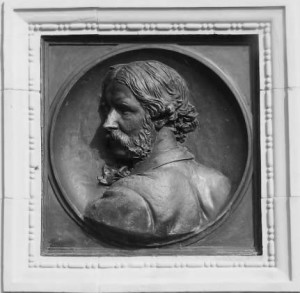 Admire Godfrey Sykes's adaptation of the Parthenon frieze to a Sheffield context, substituting artisans, labourers, miners and steelworkers for Pheidias' procession of Athenian horsemen. Headed by Minerva/Athena and other gods, in Sykes's vision the workers of Sheffield proudly wield their tools and push their trucks around the whole thirteen painted panels, extending to 60 feet, of the frieze. The background of the frieze is a bright (aqua marine) blue and the figures stand out in a deep gold.
Sykes was a Yorkshireman, who left his apprenticeship to an engraver and enrolled at the newly opened Sheffield School of Art in 1843. He was much influenced by the neoclassical sculptor Alfred Stevens, who designed Greek revival buildings in the area.  Sykes's other works include several paintings of people hard at work, in smitheries, forges and steelworks. Perhaps it was his reputation for sympathetic portrayal of industrial work that led, in 1854, to him being commissioned to design a frieze by the Sheffield Mechanics Institute. The Institute had opened in 1832, and had several hundred members, including one hundred women; its lecture hall could accommodate a thousand.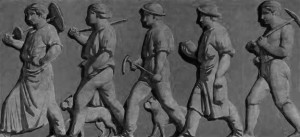 He subsequently moved to London, and became supervisor of the decorative design of the Victoria and Albert Museum, especially the terracottas. But he died young at the age of only forty-one. His portrait here is taken from the 1875 memorial to Sykes, which stands in Sheffield's Weston Park. Designed by another Sheffield artist, James Gamble, it incorporates some of Sykes' own designs.