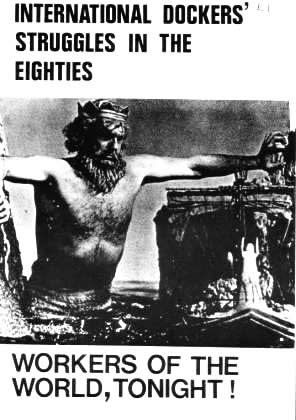 Meet Triton imagined as working-class leader as well as son of Poseidon, Greek god of the Sea. Here he is appropriated, allegedly on behalf of the dockers of the world, by the controversial London-based anarchist group King Mob. This image, originally a still from Don Chaffey's Jason and the Argonauts (1963), is a scan from a revolutionary pamphlet produced and distributed by art students Dave and Stuart Wise, founding members of the group. The 60s film is famous for its wonderful animated creatures given life by virtuoso animator Ray Harryhausen.
King Mob called for global working-class revolution in the late 1960s and early 1970s, but its members were understandably regarded as dangerous extremists by mainstream organized Labour. Inspired by the industrial action taken by dockers in Barcelona, 'BM Blob', King Mob's occasional nom du plume, produced the pamphlet and contributed an article on the 'dock struggles in the UK'. The preface explains the threat that containerization posed to traditional dock-workers' jobs.
Although they poured scorn on many popular icons of their day, King Mob frequently drew on pop culture in their posters of protest.  In this example, placing the Triton figure from Chaffey's Hollywood classic in this new context of political protest, works to strip it of its specific, narrative codes of reference and also imbues it with a powerful revolutionary symbolism. The fish-tailed god no longer parts the clashing cliffs for the Argonauts to pass through unharmed, but instead represents the power of what King Mob fantasised to be the self-organised and unified dockers. The god's stance in the still frame image is ambiguous. In its former context he helps the first boat, Argo, travel through treacherous waters. But here it is a stance of defiance, imagining sustained strike action bringing international maritime trade to its knees.
The slogan 'workers of the world, tonight!' alludes to the rallying cry of Marx and Engel's Communist Manifesto (1848): 'Workers of the world unite!'
n.b. around 1980