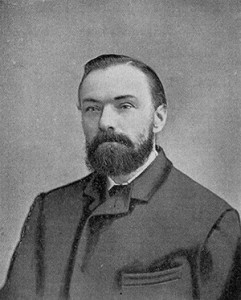 Meet "Saladin", also known as William Stewart Ross (1844 –1906),  Scottish secularist, freethinker, feminist and socialist writer and publisher, who discovered in what were believed to be the early medieval descendants of the Amazons a prototype for the progressive late 19th-century 'New Woman'.  He chose the pseudonym Saladin because the great 12th-century Muslim leader had defeated the religious zeal of the Crusaders, fostered literary and artistic culture, and gave most of his fortune away to his people.
Born in Kirkbean, Kirkcudbrightshire in south-west Scotland, Ross studied classics as he trained to be a Presbyterian minister at Glasgow University, but had an agnostic 'epiphany' and lost his faith altogether. He moved to London, managed a bookstore, read other Scottish progressives such as Thomas Carlyle and Robert Burns, and set up his own publishing company to produce educational literature and to promote secularism and rationalism; he became president of the Lambeth Radical Association.
His published poetry (Including a famous 'Caractacus the Briton' (1881) and treatises, one of which was Valasca: A New Woman of the Olden Time, published in around 1900.  Ross was fascinated by Valasca, a revolutionary Slav military leader of Bohemia in the 8th century AD, and found information about her in the Latin autobiography Commentarii rerum memorabilium (Commentaries on Memorable Things) of Aeneas Silvius Piccolomini, the future Pope Pius II who had visited Bohemia in 1450.
Valasca was preceded by the first Bohemian matriarchal queen, Libussa, who inherited the throne from her father and appointed women to the top positions, training them as soldiers. She curbed the powers of the nobility, married a peasant, and founded Prague. When Libussa died, the men tried to regain control, but Libussa's lieutenant Valasca led a revolt of the women, seized power, and took the egalitarian feminist state to new levels. She removed all men from positions of authority, and banned them from military training.
The apparent historicity of Libussa and Valasca , in contrast to the mythical Amazons or the fictional women-in-power stories staged in Aristophanes' Lysistrata and Assemblywomen, offered Ross a documented  example of a state in which women had not only curbed the powers of the aristocracy, and married for love, but really had enjoyed  political rights and public prominence equal to that of their men.