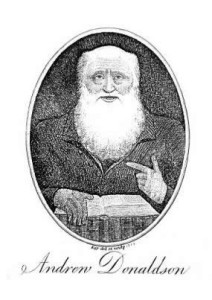 Appreciate Andrew Donaldson, the mysterious Dunfermline teacher (1714-1793). His sister married a respectable local carpet manufacturer, but Donaldson lived a life of near-vagrancy; most of the information about him was recorded in the Edinburgh Portraits of John Kay, Edinburgh caricaturist whose bookshop in Edinburgh Donaldson often frequented.
Said to have been born in the tiny Fife village of Auchtertool, Donaldson's plans to make a career in the pulpit stalled through poverty. He was academically gifted, and so took a post as Master in the Dunfermline Grammar School. "He was an ardent student, and it is supposed that too close application, particularly in acquiring a knowledge of the Greek and Hebrew languages, tended to impair the faculties of a mind which might otherwise have shone forth with more than ordinary lustre."
Donaldson was too impatient to teach, resigned, and took to living eccentrically: "he deemed it unlawful to shave, on the ground that, as man was created perfect, any attempt at mutilation or amendment, was not only presumptuous but sinful. Following up this theory in practice, he increased the singularity of his appearance, by approximating still more closely to the dress and deportment of the ancient Prophets… He adhered to the strictest simplicity of diet, and preferred sleeping on the floor, with or without a carpet, if permitted by his friends.
"Occasionally, when actuated by some strong mental paroxysm, he has been known to exchange his pilgrim's staff for an iron rod, with which he would walk about the streets of Dunfermline, declaring that he was sent to rule the nations, 'with a rod of iron.' Andrew was undoubtedly an excellent scholar; and on relinquishing the Grammar school of Dunfermline, he came to Edinburgh, giving himself out as a private teacher of Greek and Hebrew."
But this mentally unstable classicist often took menial jobs in order to survive. He was buried in Dunfermline parish church, where his gravestone was simply inscribed, "Here lies Andrew Donaldson, a sincere Christian, and good scholar."
n.b. around 1750