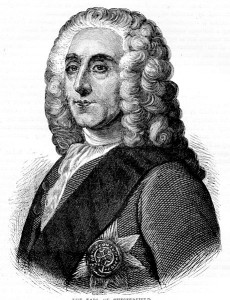 Meet Philip Dormer Stanhope, Fourth Earl of Chesterfield.  This peerage had been created for a Royalist favourite of Charles I.  In 1748 the Earl of Chesterfield wrote to his son:
'Classical knowledge, that is, Greek and Latin, is absolutely necessary for everybody…the word illiterate, in its common acceptance, means a man who is ignorant of these two languages.'
In a series of breathtaking acts of rhetorical exclusion, classical knowledge is here limited to linguistic knowledge, education to men, and literacy to reading competence in Greek and Latin. This letter was later published in a collection under the title Letters to His Son on the Art of Becoming a Man of the World and a Gentleman. Some of the letters are in Latin.