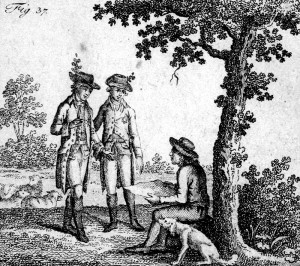 Meet Valentin Jamerey-Duval (b.1695), the son of a wheelwright from Burgundy. After the death of his father and in flight from his step-father, Valentin escaped to Lorraine, where he was taken in by hermits in Deneuvre. The largely self-educated young man was soon to be feted by European High Society, who professed themselves astonished at the prodigy of a peasant who knew more about books than they did.
It is said that the young Jamerey-Duval was illiterate before he came across an illustrated edition of Aesop's Fables. So drawn was he to the visual images that he asked some of his companions to explain the stories, and subsequently to teach him to read the book. As a result he developed an insatiable appetite for reading.
At 23 years old Valentin was discovered in the forest of Vitrimont studying a map (see picture above), by a baron – somewhat intrigued by the studious young peasant. This man presented him to Leopold, Duke of Lorraine, who took him on and allowed him to further his education.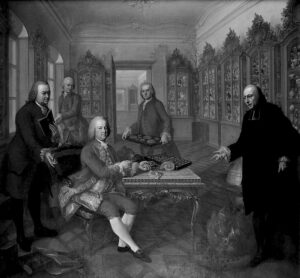 Valentin studied at the University of Pont-à-Mousson and soon became librarian to the Duke. He remained attached to the the Duke's family after Leopold's death, traveling with his son to Florence. There Francis, the Duke's son, became the Grand Duke of Tuscany. Ultimately, when Francis became Francis I – Holy Roman Emperor – Valentin became the head numismatist for the Imperial Cabinet.
In the picture on the left, Valentin is the one at the back holding a tray, not of cookies, but of golden medallions.
The moral of this story? If you read Aesop you never know where you'll end up.