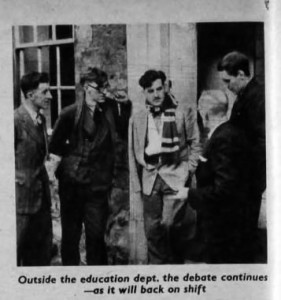 Meet Joe Guy the Durham collier who taught himself Greek and in 1952 won himself a place on a Saturday course set up by the NUM (National Union of Mineworkers) and Durham Colleges' Board of Extra-mural Studies. Every Saturday during term time Guy left his pit village of Sacriston and walked around five miles to a class on Palace Green called 'The Working of Democracy in Britain'. The tutor was P.R. Kaim-Caudle, who would later become Professor of Social Policy at Durham University.
During the week, Joe worked as a 'datal-worker' (someone who worked underground but not at the coal face itself). We don't yet know much else about Joe – if you have any information, please get in touch. He would have been born around 1920. All we do so far know has been gleaned from COAL magazine, the PR organ of the National Coal Board (Volume 5, January 1952, page 6).
COAL magazine tells us that Joe was 'a typical Durham miner' in all ways apart from one 'small accomplishment' – 'he has taught himself to read Greek and is a regular contributor to a theological magazine'. The piece continues: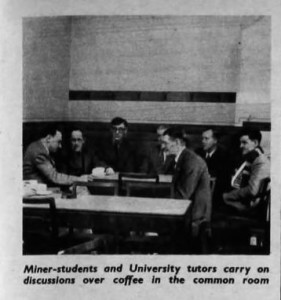 Joe Guy is a member of a class of 25 Durham miners. It has been organized jointly by the Durham Area of the NUM and the Durham Colleges Board of Extra-Mural Studies. Students are drawn from collieries in all parts of Durham… Their average age is 30. Some have attended NCLC and WEA courses, but the majority have little or no adult educational experience.
The course—we are told—was designed to prepare promising workers for management and Trade Union leadership positions. For over fifty years Durham Colleges (later to be divided into the Universities of Durham and Newcastle Upon Tyne) had been sending tutors out into mining villages, supported by the Workers' Educational Association (WEA). The idea of bringing miners into the university was considered something of a radical innovation in the 1950s.