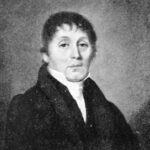 Meet George Miller, son of a Dunbar merchant, whose early passion for books and later the idea of 'popular literature' drew him into a life as a printer and bookseller. From Miller's autobiographical writings we can tell that this was no easy nor especially lucrative venture: "I might say that disappointment shook hands with me on my entrance into life, and marked me for her own from the moment of my birth." Notwithstanding his traditionally dour demeanour, Miller benefitted from an untypically broad primary education for his day, extending well beyond the three Rs and the catechisms to other more colourful literature chosen to install a sense of morality, including English versions of Aesop's Fables. He learned Latin in secondary school before becoming bound apprentice for 4 years to Alexander Smart, a bookseller in Dunbar.
In 1795 he invested in East Lothian's first printing press. At this time, we are told, the region had one or two libraries, but they were of no use to the general public because their books were written in Hebrew, Greek and Latin. The way that most people in the area could get their hands on affordable reading material was at the market and the hawker's basket.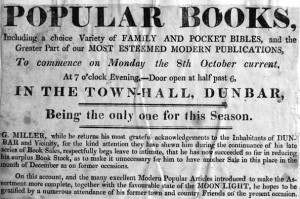 In his autobiography Miller writes that "since the publication of my Cheap Tracts in 1802-3 the complexion of the hawker's basket has undergone a very sensible alteration or material change to the better". His son James agreed: they had "superseded the common trash of the hawker's basket". The baskets of which father and son both speak in uncomplimentary terms were full of chapbooks of (in their opinion) low grade literature, including "Lothian Toms, the John Cheaps, the Wise Willies, and other pernicious trash".
Miller's Cheap Tracts were inexpensively printed pamphlets containing literature chosen for its instructional as well as literary quality. In practice this meant that they were short, sometimes-abridged versions, or translations of well-regarded 18th-century (or earlier) prose writers. Many of the Cheap Tracts were later incorporated into Miller's Cheap Magazine, a survey of which shows that classical literature and ancient history featured prominently.