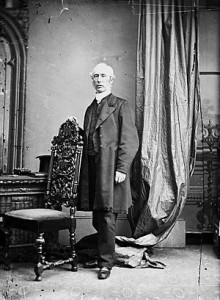 Sit up straight! and listen to Lewis Edwards (1809-1887), the Calvinistic Methodist preacher, who was instrumental in the shaping of Modern Wales through his educational writing and practice. He was convinced of the enormous benefits gained teaching the Greek and Roman classics, and in 1852 published in Y Traethodydd (The Essayist) his own Welsh translation of a passage of Homer's Iliad.
Edwards wrote in his journal: "It seems to us that the prime place in education should be given to the classics; not for the sake of the Latin and Greek languages in themselves, but for the sake of the books that have been written in them. These books are worth reading and understanding because of their merits, inasmuch as they are the products of all the best thinkers who were ever in the world before the days of Christ, apart from the writers of the Old Testament; furthermore this is the best preparation for anyone who wishes to devote the rest of his life to reading the work of the greatest thinkers who were subsequently in the world." (n.b. originally published in Welsh – trans. Ceri Davies.)
Edwards educated many of the next generation of Methodist ministers, and (just as importantly) a great number of working-class young men from the North of Wales who were destined for other careers—including Robert Roberts.  Thomas Charles Edwards continued his father's educational work, becoming the first Principal of the University College of Wales, Aberystwyth. With classical literature at the very heart of Welsh Methodist teaching it is no wonder that some of the most remarkable working-class classicists have been Welsh.