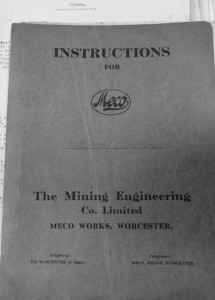 Meet Sid Chaplin the Durham miner who before establishing himself as a highly versatile professional writer, probably best known for his distinctive blend of social realist prose fiction, wrote poems that used classical imagery to express the unseen plight and daily grind of the English collier.
Among his papers can be found a blue folder bearing the title:
INSTRUCTIONS / FOR / MECO / 'FACE BELT CONVEYOR' / THE MINING ENGINEERING / CO LIMITED.
Within this folder are collected the manuscript poems of a twentyish-year-old coalman dreaming of a literary life. Most are typewritten and a number have critical comments and metrical notation scribbled over and around the text, including the handwriting of his one time literary mentor, the Spennymoor Settlement warden Bill Farrell.
In the folder, among pages with titles such as 'Poems of an Unprivileged Poet' and 'Where Gorki [sic] Died' can be found the poem 'Miner', which sees the young pitman poet relate his own experience below ground to that of the suffering titan god Atlas:
I am the inner Atlas of this spinning globe.
At the dark centre of your green circumference
I crouch, the crawling wonder of my darker world,
The sweating surgeon of the strata depths,
The probing, blasting hero of my diamond doom.

Another poem in the folder 'Miners at Work' explicitly views the 'straining flesh' of dehumanised forms toiling in the darkness as 'the cornerstone of creature comfort; / Culture, / Cities of men, Commonwealth to be.' The poem is written from the perspective of one of those 'unreal men in their inner Hades' and is justifiably critical of the stark inequalities of 30s Britain, inequalities that have the 'real' people on the surface enjoying the fruits of his and his fellow workers' exhausting labour.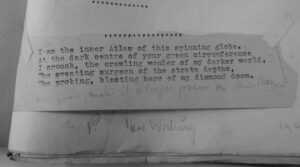 Chaplin's use of the classical colouring of 'Atlas' and 'Hades' cast his day's labour in the cultural and emotional context he felt necessary to adequately describe to his surface-dwelling readers the grimness of the conditions of his subterranean fellow workers. It is the cruel punishment and eternal labour of Atlas, and the dark, inescapable underworld home of the Grecian dead that best suit the young artist's purpose. The epithet 'inner' that qualifies both Atlas and Hades emphasises the unjustly disproportionate personal burden laid on the individual subterranean worker. The colliers' world Chaplin paints in these two short poems is dark, claustrophobic, uncomfortable and desperately lonely. There is no other human presence with whom the 'unknown weight' can be shared, no camaraderie, and no sign of religion or even external mythology in which to take comfort.
After being published by John Lehmann in Penguin New Writing in 1941, Chaplin became an established author, journalist and arts worker – for which service he was awarded an OBE in 1977.
n.b. around 1940