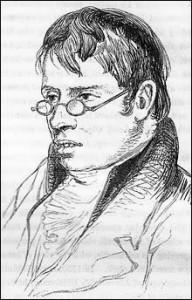 Meet Alexander Murray (1775-1813), the sickly son of an impoverished Galloway shepherd who would live to become Professor of Oriental Languages at the University of Edinburgh. It was quickly apparent that he wasn't to follow in his father's footsteps; his eyesight was so poor that he couldn't see the flock he was charged to herd. After just a few months of formal schooling in rural Galloway, Murray embarked on his astoundingly impressive programme of self-education in the late 1780s, supporting himself by teaching children of isolated communities like his 'the three Rs' as a resident tutor.
Throughout his career as a resident tutor, he borrowed and bought (when cheap enough) whatever books he could lay his hands on. He received, for example, from a farmer in Glentrool a copy of Plutarch's Lives, and a bilingual edition (Greek and Latin) of Homer's Iliad from a lead miner at Palnure. He purchased a stout Latin Dictionary (1s 6d) from an old man in Minnigaff, and was gifted a Hebrew lexicon from a distant cousin.
In his autobiographical writing, Murray reflected at some length on a time when his twelve-year-old self got hold of a copy of Thomas Salmon's Geographical  and Historical Grammar. This book contained the Lord's Prayer in several languages. He recalled how much he had enjoyed, and benefited from, poring over those translations as a boy.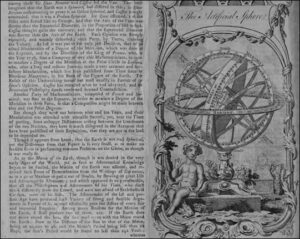 It is perhaps no wonder, considering the odd conglomeration of obscure and arcane texts at his disposal, that on growing up Murray should fix his attention on the acquisition and comparison of languages. When he applied to enter the University of Edinburgh, at the age of 18, he already had a thorough knowledge of French, Latin, Hebrew, Greek and German, and had somehow picked up a smattering of Arabic, Abyssinian, Welsh and Anglo-Saxon. By the end of his life it is reported that he knew most (if not all) of the European languages, ancient and modern, and – of course – numerous Oriental languages.
In 1812 — the same year he won the Chair of Oriental Languages at Edinburgh — Murray completed work on his magnum opus, History of the European Languages: Researches into the Affinities of the Teutonic, Greek, Celtic, Slavonic, and Indian Nations. He finished the book one year before his death, and four years before the German philologist Franz Bopp – the founding father of Indo-European Studies – published his influential comparative grammar. Sadly, Murray's book did not see print before 1823, and so his pioneering contribution to Comparative Linguistics has been somewhat overlooked.
As early as 1808, Murray provocatively wrote that "Greek and Latin are only dialects of a language much more simple, regular, and ancient which forms the basis of almost all the tongues of Europe and… of Sanskrit itself."
For more about Murray's life, see Jack Hunter's Alexander Murray; Galloway's Self-Taught Genius (Stranraer & District Local History Trust, 2014)