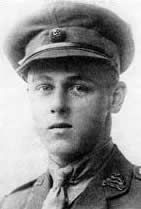 Meet Edgell Rickword (1898-1982), war poet and British Communist Intellectual. In his poem, 'Fatigue', the fetishization of ancient Greek culture represents the lost dreams of obsolete ruling classes resisting human progress towards a better world.  The son of an Essex librarian, Rickword attended Colchester Royal Grammar School, before fighting on the Western Front briefly in 1918.
He later commented on his experience of the war, in Literature and Society (1940), 'It was not the suffering and slaughter in themselves that were unbearable, it was the absence of any conviction that they were necessary, that they were leading to a better organization of society.' His political views intensified when he could not live on his disability benefit after losing an eye. He was an ardent supporter of the 1926 General Strike and became convinced that Marxist theory was the best way to understand the world during a conversation with the classicist Jack Lindsay about Aristophanes and Athens. In 1934 he joined the Communist Party of Great Britain.
Rickword gave up poetry, and worked for Lawrence and Wishart, the official publication house of the party, founded in 1935. He subsequently edited a prominent left-wing review called Our Time.  He believed that classicism was not good for poetry, criticising the Imagists thus: 'All that Grecian business, a Greece that never had been.' To learn more about Rickword read Alan Young and Michael Schmidt's 'A conversation with Edgell Rickword' in Poetry Nation No. 1 (1973).
Fatigue
'Time's wheel turns heavily towards the end',
some tired mortals say.
'We are the aftermath of Greece
whose brief and glorious day
marks the tribe's zenith whence we bend
and loiter to decay.
'Nothing remains to do but tend the grave
of dead magnificence;
and in the last dim hours assume
sufficient arrogance
to mock within the freezing cave
old hopes of permanence.'
Bright on the tree that shadows Space
buds burst continually;
and withered systems drifting down
with Time's wind silently
know not the haughty germs that pace
their veins resignedly.
Listen to him read his poems on Poetry Archive.
n.b. around 1920