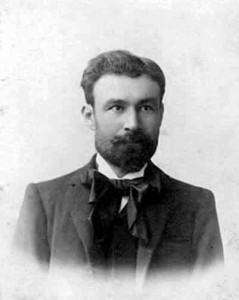 Meet Andreas Karkavitsas, author of the most déclassé version of the Odyssey to appear in the 19th century. The Beggar (O Zetianos, 1896) was also the earliest novel to be written in demotic modern Greek. Karkavitsas was convinced Greek literature needed to be written in a language understood 'by people both of the drawing-room and the hills'.  He set his Odyssey-inspired novel in a backward Greek village, in an impoverished area which had been under Turkish rule until 1881. Karkavitsas, himself middle-class, had studied mythology at the Gymnasium in Patras, but as a medical officer in the Greek army travelled in the poorest areas and came to sympathise with the miserable conditions under which most Greeks then lived.
He was struck by the professional beggars in the area known as Roumeli, and the parallel between their culture and that of Homeric heroes, especially the clever Odysseus. Each beggar went on long journeys, dressed in noxious rags, to acquire the means on which his family subsisted, but returned secretly at night to his home village to attend public festivals. He would hang his beggar's staff from a nail 'in which are preserved all the ancestral staffs, like the weapons of heroes in their arms-rooms…the trophy by means of which his beggarly cleverness is advertised.' The beggar then appeared in public, clean, freshly dressed, and triumphant, and 'whoever sees them the next day in the market will be thunderstruck like Telemachus before his transformed father'.
The Odyssean hero of the novel is the titular beggar, Tziritokostas, a man capable of killing, with steely muscles beneath his rags, a revenge motive, and exceptional cunning. Although his ethics are abominable, through him Karkavitsas celebrates the inherent intelligence and potential of the downtrodden serfs of Thessaly, while sparing no detail of the poverty and superstition that plagued them. Karkavitsas' outrageous new hero, by embodying an ironic twist on one of the canonical works of ancient Greek culture, allows his author to make political points without whitewashing the rivalry and tawdry malice starving rural villagers felt towards one another.
For more on this subject read the following groundwork article.