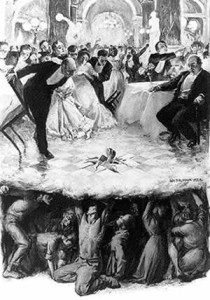 Meet  a politicised Discobolos and Venus of Melos, the two most familiar of all ancient statues, representing the decadent life of luxury as depicted by socialist artist William Balfour Ker in 1905.  A Canadian of Scottish background,  he created this image, entitled 'From the Depths',  to illustrate a novel on class struggle called The Silent War by John Ames Mitchell (New York 1906).
The image became famous, circulating widely as a print suitable for framing. The prosperous class are dancing at a society ball, dressed in expensive and elegant clothes. Their backward-looking cultural aspirations and tastes are powerfully symbolised by the two large copies of the famous antique statues, representing ideal male and female beauty respectively. But the fantasy world enjoyed by the ball-goers only thinly masks the real, murky, subterranean world of labour which makes their wealth possible, seen here irrupting from literally beneath the dancers' feet and threatening to overturn the class system altogether.
In this powerful picture, the smashed ceiling/floor represents a call to socialist revolution. Ker uses a shocking aesthetic technique whereby an abstract idea from economic theory literally breaks apart the conventional realism of the upper-class world in the top half of the engraving. But the clean lines and shapes created by the limbs (both present and missing) of the classical statues are also echoed in the postures and bodies of the oppressed working-class men and women. This complicates the apparently simple equivalence between the taste of the elite and classical iconography. Who in this picture are really the idealised humans, after all?