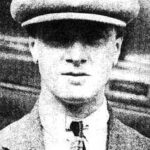 Meet Gilbert Daykin, miner and painter, whose "Symbolic: the Miner Enslaved" (1938) (above / colour) is perhaps the most poignant example in the long iconographic tradition which equates miners, slaves and other manual labourers with the fettered Prometheus. See for example, Briton Rivière's "Prometheus Bound", which was well known in the 1930s.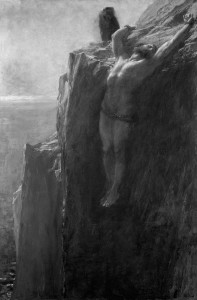 The mythical undertext makes this picture stand out amongst Daykin's works, most of which portray miners in a dispassionate and realistic idiom, such as in the cramped conditions evoked in "The Tub".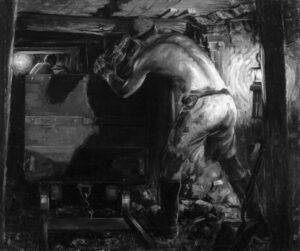 A few years before he painted the symbolically enchained miner, Daykin had spent two weeks in London, courtesy of Winifred Anna Cavendish-Bentinck, the duchess of Portland, who was a vigorous advocate of the Miners' Support Association in Nottinghamshire. He used the time to study masterpieces in art galleries. Some of his paintings had been shown then to the first Labour Prime Minister, Ramsay MacDonald, in Downing Street.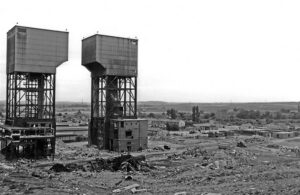 Not that being patronized by aristocrats and leading politicians did Daykin much good. As an artist, he said that he had "lived in eternal dread of injury to my eyes or hands in the pit, but that has been my lot in life." Just as he feared, disaster struck, and he lost not his sight but his life when he was among six men killed in Warsop Main Colliery (above) just before Christmas in 1939.  He knew this might happen: he also said, "There is a siren at the pits, and it rules my life."