Meet John Henry "Doc" Holliday, 'a Southern gentleman turned gambler and gunman.' This is, at least, how he is introduced in the 1993 cult Western, Tombstone. In 1881 the real Doc Holliday fought at the O.K. Corral led by Wyatt Earp against the outlaw Cowboys. Around twenty years earlier he was reading Latin in a school room in Georgia. In Kevin Jarre and George Cosmatos' movie our consumptive and sharp-witted anti-hero is played by Val Kilmer. When Doc encounters the notorious outlaw, Johnny Ringo, in a saloon there is no love lost.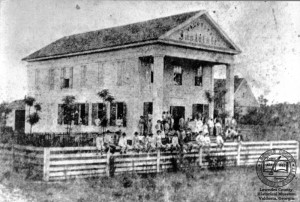 Wyatt Earp (Kurt Russell) tries to defuse the mounting tension by explaining that Doc is drunk.  Holliday slurs into his whiskey: "in vino veritas" (in wine [there is] truth). When Ringo responds with "age quod agis" (do what you do [best]), Doc is taken aback. Ringo's free adaptation of a Latin proverb is a marker of a formal classical education and therefore also of his elevated class position. Their ensuing exchange of pre-formulated Latin sentences is as much a contest of social-status and cultural one-upmanship as it is a conversation.
Doc's response: "Credat Judaeus Apella, non ego" (The Jew Apella may believe [it]; I don't), raises the cultural stakes, alluding to the Augustan poet, Horace (Satires 1.5). Ringo, gesturing towards his gun, further riles Doc with 'Eventus stultorum magister' ('action/experience is the teacher of fools'), tantamount to 'I'm going to educate you by killing you', to which Doc replies 'in pace requiescat' (may he rest in peace, or – in this case – 'It's your funeral').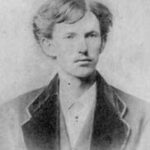 While it is highly unlikely that Johnny Ringo (in real life) received an education that would have prepared him to converse in Latin in this way, Doc Holliday did. Born in 1851, Holliday was educated at the Valdosta Institute, Georgia, where he was taught: "rhetoric, grammar, mathematics, history, and languages—principally Latin but also French and some Ancient Greek." He then trained as a dentist. Kevin Jarre, the writer of Tombstone, doesn't miss an opportunity to show Doc outclassing his frontier peers. He seems to exist in another cultural realm than his compatriots. The character of Johnny Ringo is presumably depicted as "an educated man" so as to draw him more neatly as Doc Holliday's arch nemesis, building up to their final shootout.
The real Wyatt Earp is reported to have said of Holliday that he was "a dentist, not a lawman or an assassin, whom necessity had made a gambler; a gentleman whom disease had made a frontier vagabond; a philosopher whom life had made a caustic wit; a long lean, ash-blond fellow nearly dead with consumption, and at the same time the most skilful gambler and the nerviest, speediest, deadliest man with a six-gun that I ever knew."