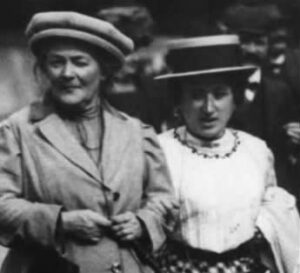 See the poster of the Spartacus League, which implicitly likens the German working class not to Spartacus, historical leader of an ancient slave revolt, but to Hercules, attacking the hydra. The enemy which this amalgam of ancient historical and mythical heroic symbolism needs to defend his rights against has the multiple serpentine heads of a latter-day hydra. Three of them are labelled Neuer Militarismus, Kapitalismus and Junkertum (New Militarism, Capitalism, and Landed Nobility).
But the poster asks, in larger font, Was will Spartakus?—what does Spartacus want? 'Spartakus' here personifies the revolutionary socialist group, founded to oppose German militarism in World War I. Its leaders, especially Rosa Luxemburg, circulated the Spartacus Letters, a radical newspaper calling for withdrawal from the war and socialism. But the classical resonances may have been the responsibility of the other female Spartacist leader, Clara Zetkin, whose father was a Protestant pastor and who had herself trained to be a schoolteacher.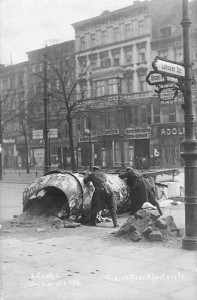 In 1919 the Spartacists renamed themselves the K.P.D. (Communist Party of Germany), but only after the January uprising in which they had tried to lead the Berlin working class into open rebellion against the government. The new Chancellor, Friedrich Ebert, sent in the army and suppressed the rebels brutally. Luxemburg and two of the leading male Spartacists were murdered. But Spartacus, in his Herculean pose, was not so easily suppressed, and the K.P.D continued to lead resistance to the rising Nazis until it was banned by Hitler in 1933.
n.b. around 1920